You've already made a great choice by picking up the audio edition of NEIL PATRICK HARRIS'S CHOOSE YOUR OWN AUTOBIOGRAPHY. This hilarious book has been adapted especially for the audiobook edition so you'll hear all of the same fun and humor from the printed version but you don't have to make any decisions or jump around—just kick back, relax and listen.
It's the literary equivalent of buried treasure. The audiobook edition features a cast of celebrity narrators who bring these stories to life. Readers include.

THE BIPPOLO SEED, narrated by Neil Patrick Harris
THE RABBIT, THE BEAR, AND THE ZINNIGA-ZANNIGA,narrated by Anjelica Huston
GUSTAV, THE GOLDFISH,narrated by Jason Lee
TADD AND TODD, narrated by Joan Cusack
STEAK, FOR SUPPER, narrated by Edward Herrmann
THE STRANGE SHIRT SPOT, narrated by William H.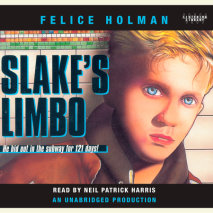 Aremis Slake, at the age of thirteen, took his fear and misfortune and hid them underground. The thing is, he had to go with them.