Giving voice to Grisham: Meet Michael Beck, narrator of THE RECKONING
November 5, 2018
John Grisham's newest legal thriller, THE RECKONING, marks a return to the Southern Gothic setting his fans love, and is a shocking and suspenseful tale, made even more heart-pounding when told by a skilled storyteller. Enter narrator Michael Beck, who has been the voice of many Grisham audiobooks, and for good reason. Booklist has described his range as "brilliant" and AudioFile exclaims, "Few authors can compete with John Grisham in the genre of courtroom dramas. Narrator Michael Beck performs with equal skill." While hardly an interrogation, we had a few friendly questions for this beloved audiobook narrator.
What do you love about narrating John Grisham's novels?
John Grisham is a fine storyteller, and his novels almost always raise moral questions. Many times those questions are of a redemptive nature. As a human being, stories of redemption are in my DNA. As an actor, I am drawn to them and love to participate in the telling of them.
What was it like to return to his work this time with THE RECKONING?
It was like coming home. I have had the privilege of narrating a number of Mr. Grisham's novels set in Ford County, Mississippi, from his very first novel, A Time to Kill, to his latest novel, THE RECKONING. And even though the time frame and the characters were different from the last Ford County story I narrated, there was still an overwhelming sense of familiarity. I felt like I was attending a family reunion, visiting with aunts and uncles and distant cousins I hadn't seen in a while. I was back home.
Another collaborator in the recording process is the director. Can you describe that relationship?
In recording THE RECKONING, director Tony Hudz was, once again, on the other side of the glass. One the best in the business. He senses Mr. Grisham's rhythms in the telling of his story and my rhythms in the voicing of it. And like a champion charioteer, he harnesses those rhythms together and guides the chariot to the finish line. Thanks, Tony.

And thanks, Michael, for chatting with us!
Learn more about John Grisham's newest title, available now: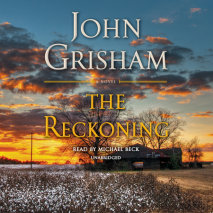 LISTEN TO A CLIP: THE RECKONING
October 1946, Clanton, Mississippi
Pete Banning was Clanton, Mississippi's favorite son—a decorated World War II hero, the patriarch of a prominent family, a farmer, father, neighbor, and a faithful member of the Methodist church. Then one cool October morning he rose early, drove into town, walked into the church, and calmly shot and killed his pastor and friend, the Reverend Dexter Bell.

Grisham takes listeners on an incredible journey, from the Jim Crow South to the jungles of the Philippines during World War II; from an insane asylum filled with secrets to the Clanton courtroom where Pete's defense attorney tries desperately to save him.
"A fascinating literary jigsaw puzzle…This is Grisham experimenting with the traditional legal-thriller format, and his experiment yields thoroughly engaging results."—Booklist
Audio praise for Sycamore Row read by Michael Beck: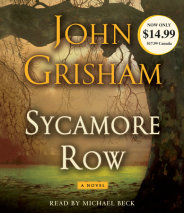 "Beck is a master at the nuances of regional and racial southern accents. His range is wide, subtle, and wonderfully indicative of the variety of characters in the novel."—Booklist
"Reader Michael Beck does a masterly job with all the characters, imbuing each with differences in pitch and accent; his portrayal of Jake brings to mind Matthew McConaughey, who played Brigance in the film."—Library Journal
"Beck expertly guides the story through myriad surprises and suspense-laden twists while affecting the drawls, twangs, and nuances of the characters"—AudioFile Earphones Award