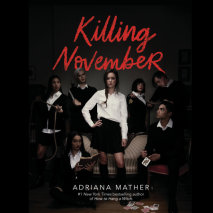 From the #1 New York Times bestselling author of How to Hang a Witch comes a thriller set at a secretive boarding school where students are trained to carry on family legacies that have built--and toppled--empires.
The Titanic meets the delicious horror of Ransom Riggs and the sass of Mean Girls in this follow-up to the #1 New York Times bestseller How to Hang a Witch, in which a contemporary teen finds herself a passenger on the famous "ship of dreams"—a story made all the more fascinating because the author's own relatives survived the doomed voyage.
The #1 New York Times bestseller.

It's the Salem Witch Trials meets Mean Girls in this New York Times bestselling novel from one of the descendants of Cotton Mather, where the trials of high school start to feel like a modern-day witch hunt for a teen with all the wrong connections to Salem's past.