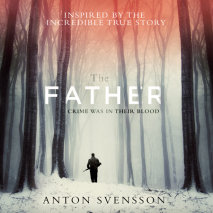 A thrilling, unforgettable crime novel about three brothers who became Sweden's most wanted criminals, inspired by the unbelievable true story

How does a child become a criminal. How does a father lose a son.

An epic crime novel with the excitement of Jo Nesbo's Headhunters and the narrative depth of We Need to Talk About Kevin, The Father is inspired by the extraordinary true story of three brothers who committed ten audacious bank robberies in Sweden over the course of just two years.
After six years in prison, Leo Duvnjac is going free. Prosecuted for numerous crimes--including ten bank robberies, planting a bomb in Stockholm's Central Station, and pulling off northern Europe's largest-ever weapons theft--he was convicted of just two robberies (since the huge cache of automatic weapons was never found).