Marco Polo was seventeen when he set out for China . . . and forty-one when he came back. More than seven hundred years ago, Marco Polo traveled from the medieval city of Venice to the fabled kingdom of the great Kublai Khan, seeing new sights and riches that no Westerner had ever before witnessed.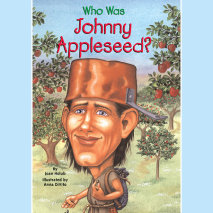 The perfect biography to "bite into" at the start of a new school year. Children are sure to be fascinated by the eccentric and legendary Johnny Appleseed, a man who is best known for bringing apple trees to the midwest. Over John Chapman's lifetime, he saw the country grow and start to spread westward.
Building the most magical place on earth was no fairy tale. Learn the story behind the creation of Walt Disney World.

In 1964, when Walt Disney and his brother Roy decided to build a second theme park in the Florida swamplands, they kept it super hush-hush.
Jim Henson broke into television with a five-minute puppetry segment when he was only a freshman in college. He created puppets like none ever seen before, with expressive fabric faces and rod-controlled arms. His Muppets became world-renowned celebrities and formed the backbone of a media empire.